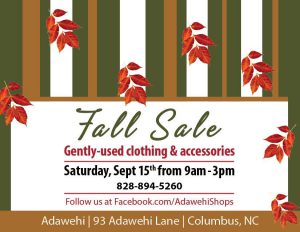 September 15, 2018-September 15, 2018
(9:00 AM-3:00 PM)
Women's gently-used clothing & accessories for Fall.
Women's high-quality, cared-for clothing at great low prices. Many styles and sizes. Jackets, blouses, jeans, skirts, dresses, tops, & shoes.
Clothing prices: Casual $5-$12, Dressy $10-$20, Shoes $8-$14
Free samples from the Beneficial Foods kitchen will be available. Our health food store will also have fresh baked goods available to purchase.
It's a great day to enjoy sisterhood and community at Adawehi!
Location: Adawehi Wellness Village, 93 Adawehi Lane, Columbus, NC 28722

Contact: Adawehi Staff
828-894-5260