August 21, 2019
(5:30 PM-7:00 PM)
This month's Business-After-Hours will be held on Wednesday, August 21st 5:30-7 pm at Foothills Medical Associates / Mehac Dental Health Care. 
Join us for an Open House and Ribbon Cutting event. You are invited to tour the new facilities, enjoy refreshments and learn more about these exceptional healthcare practices serving the Carolina Foothills.
We hope you'll come out and join us in welcoming the two businesses in there new location.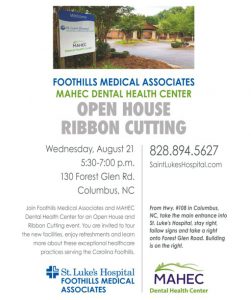 Cost: FREE
https://carolinafoothillschamber.com/wp-content/uploads/formidable/7/FoothillsOpenHouseRibbonCuttingFlyer81219.pdf
Location: 130 Forest Glen Rd., Columbus, NC 28722
Contact: Carolina Foothills Chamber of Commerce
828-859-6236
---